Trout Cultivation: Operational Management

 ■location
Oimachi cho, Toyota City, Aichi Prefecture 444-2411
(We do not disclose specific address because of security problem.)
 ■Facility
One large pond in Morihori
4 large breeding ponds
3 medium-sized breeding ponds
1 small bred pond
Circular cistern 1 tank
Driven by obsession: the dream to raise "hyper trout"
Hatched from fertilized eggs purchased in 2005, we began cultivating trout with a specific, obsessive goal: create a breed of "hyper trout". Now, we collect and fertilize our own eggs from our own rainbow trout and red-spotted masu trout which have been raised to maturity in our own facilities. In the warm, temperate climate of Okazaki City in Aichi Prefecture, raising trout from eggs to adulthood requires great effort and is trailsom at best.
So, why do it? Because for fear of the great risk that comes with the challenges of raising trout, there are just far too many trout hatcheries which are unable to unlock the true power that trout possess. We've risen to that challenge. We do not allow the fillet of the fish, the very source of a trout's power, to be lost or damaged. We set out from the very beginning to ensure ensure that the trout we raise by our own hands will be filled with every bit as much power as wild trout, if not more.
Our fins
Most hatchery trout are raised with the general purpose of consumption, and for the sake of efficiency they are frequently selected and separated as they grow larger to live with fish of the same size. In order to do this, the fish must be handled many times by nets or human hands; this is often one of the greatest reasons that the fillets, and other parts, of common hatchery fish are damaged.
With such heavy emphasis on efficiency and producing as much commercial volume as possible, hatcheries are also usually greatly overcrowded. With no room to swim the trout constantly scrape against each other and the confining walls, often also aggravated into biting at the fillets of surrounding fish. The result is fillets steadily becoming more and more damaged and calloused. Without a healthy fillet, they lose the ability to swim quickly.
The fillet is to a fish is as legs are to a human; without it, they cannot swim quickly, powerfully.
When a trout first hits a line, it rapidly shakes its head to try to remove the hook. Then, the moment it realizes it can't, it rushes to the surface in a burst of speed and begins a fierce struggle. The greater the struggle, the greater sense of urgency the fisherman feels to catch the fish. The greater the fight, the more exhilarating the success. However, no matter how hard it tries, a trout that has lost the power of its fillet will only fruitlessly spin about and is easily brought in. That's why strong, wild-caught fish offer a greater fight and, one could say, a more beautiful memory.
Raising fish from square one is still fraught with trial and error and we can't say that we've honed it down to a perfect art, but, along with management fishing, it cannot be said that the stream fishing environment in Japan is in acceptable conditions. With a genuine love for fly fishing, KEN-CUBE continues its development with a keen sense of mind for the preservation for natural fishing spots.
Nurseries growth situation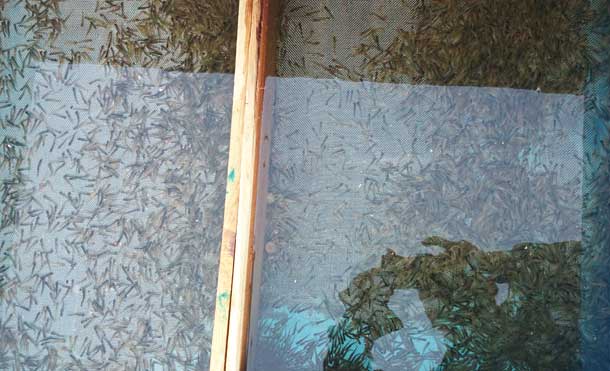 Both rainbow trout and amago succeeded in hatching with oviposition / fertilized egg at KEN-CUBE

In accordance with the growth situation, separate breeding tanks and breeding individuals of Hiirepin
Self-expenses discharge for fishing spot preservation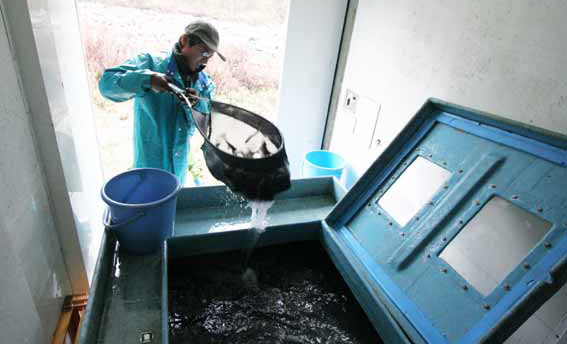 Large grade vehicle-mounted water tanks to Gamada River in Hida province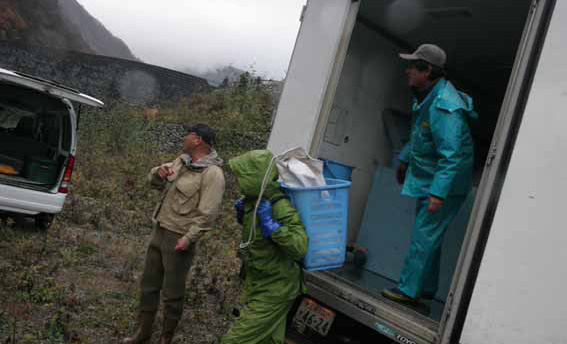 Always securing fishing cooperative rights beforehand, and moving to water discharge locations via foot and traditional wooden rack backpacks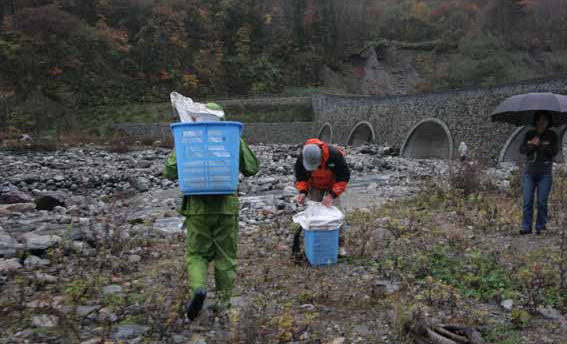 KEN-CUBE staff working with cooperative workers when transporting to water discharge sites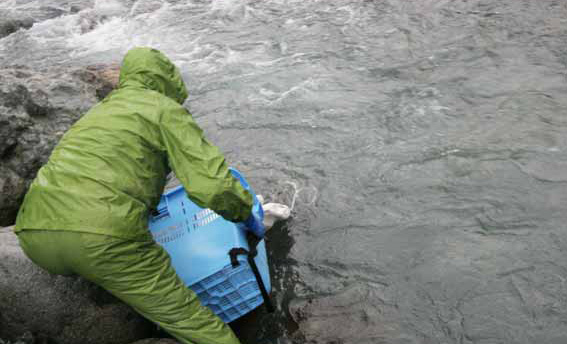 Always spending our own money to release beautiful fish - in the rain - to protect mountain streams so that you may always catch great fish.